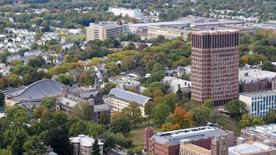 Yale is seeking city approval to build a new teaching and research center on Science Hill that will take a multi-disciplinary approach to answering some of the most urgent questions about life on Earth.
The proposed center would replace the existing J.W. Gibbs Laboratory, adding to a dramatic renovation and upgrade of basic science facilities on campus in recent years, and creating more than 250 construction jobs in the process.
Yet the project has been delayed for months, as the New Haven Board of Alders created new legislation requiring a review of Yale's overall parking plans in advance of any city approvals. The new science building would have no impact on local parking; it would replace an existing structure, retaining all existing parking spaces, with no additional parking needed.
As it has in previous years, Yale has submitted its overall parking plan for the Central/Science Hill campus to the city, and the board has held public hearings, during which issues related to general parking and transportation options throughout the city were discussed. The Board of Alders is expected to vote on an amended Overall Parking Plan Sept. 7, which would pave the way for the City Plan Commission to consider the new science building.
Westville Alder Adam Marchand, D-25, was acting chair of the City Plan Commission when the proposal was denied in May, and has raised several issues about Yale's overall parking plan in the months since then.
"We're hopeful we're going to get our parking plan approved," said Lauren Zucker, Yale's associate vice president of the New Haven Affairs and University Properties offices. "We have been recognized as a leader in the state in our sustainable transportation initiatives, and we'll continue to work on innovative ways to promote public and alternative transportation."
Zucker added: "This project creates immediate jobs in our community and ultimately provides a space for conducting the kind of cutting-edge science that benefits us all. We want to get started on it sooner rather than later."
In April, about 30 members of laborers union Local 455 expressed their support for the project, and the jobs it would bring, outside a meeting of the City Plan Commission. In July, an editorial in the New Haven Register urged city leaders to find ways to streamline the review process for the new science building and similar projects, noting: "The process shouldn't be this difficult."
The proposed science building would bring together biologists, physicists, chemists, engineers, mathematicians, and other scientists to collaborate as an integrated community. Collaboration would be built into the building's design, with interspersed faculty and student spaces and specialized teaching labs to study plants, animals, and microorganisms.
If approved, it will be the latest step in a historic period of construction for science facilities on campus. Transformative renovations and improvements to the Sterling Chemistry Laboratory will be completed in time for the fall semester, as will renovations at Wright Laboratory, which is being refashioned as a center for conducting research on neutrinos and dark matter.
Other Yale science construction in the past year includes the launch of the Yale Quantum Institute last fall and the renovation of Greeley Memorial Laboratory over the winter.