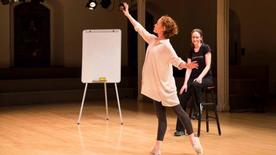 "Incarnations," a dance performance featuring four Yale faculty members and based on a collaboration between particle physicist Sarah Demers, the Horace Taft Associate Professor of Physics, and Emily Coates, director of Yale Dance Studies and professor adjunct of theater studies, will take place March 16-18 at St. Mark's Church in New York City.
Performed in-progress as part of Danspace Project's Platform 2015: Dancers, Buildings and People in the Streets, "Incarnations" is a series of etudes making a connection between dancing and science. Coates, who is also assisant professor adjunct of directing at Yale School of Drama, wrote the piece based on her work with Demers; the two co-teach a course called "The Physics of Dance." "Incarnations" moves between lecture and performance, interweaving divergent sources, from Balanchine's "Apollo" and postmodernist dance aesthetics to the breakthrough discovery of the Higgs boson. 
"Incarnations" explores the ways in which the disciplines of dance and science "struggle to imagine the other, celebrating physics and dance as equal partners in a profound effort to understand human existence," Demers and Coates say. The New York Times chose the performance as one of its dance events of the week.
In addition to Coates and Demers, the performance features dancers Lacina Coulibaly and Iréne Hultman, both lecturers in theater studies at Yale; Jon Kinzel; and Will Orzo, with a special appearance by Yvonne Rainer. Orzo is the musical director, and lighting is by Carol Mullins.
Shows are at 8 p.m. at St. Mark's, 131 East 10th St. Advance tickets are $22 for general admission; $15 for members. Tickets can also be purchased at the door for $25 (cash or check only), pending availability. For tickets or information, visit the Danspace Project website.