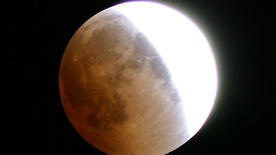 Yale's Leitner Family Observatory and Planetarium will be keeping an eye on the total lunar eclipse this weekend, and the public is invited.
The observatory, located at 355 Prospect St., will host a free viewing event from 9 to 11 p.m. on Sunday Sept. 27. Astronomers will be on hand to lead the event and answer questions about the eclipse.
"It is dramatic to look through a telescope and see the moon turning red before your eyes," said Michael Faison, a lecturer in the Department of Astronomy and director of the Leitner Family Observatory. "We'll look at some other objects up in the sky that night, as well."
Sunday evening's celestial event is a combination of a total lunar eclipse — in which the Earth comes in-between the sun and the moon, casting a shadow that completely covers the moon — and a supermoon, in which the moon's orbit is closest to the Earth's surface. The moon appears to turn red because of a small amount of light that slips around the edges of the planet. In addition, it will be a harvest moon, which is the full moon that arrives closest to the autumnal equinox.
The observatory has two permanently mounted telescopes. In the east dome there is the historic, 8-inch Reed refractor, originally purchased by Yale in 1882 and refurbished in 2004; in the west dome is a computer-controlled, 0.4-meter reflecting telescope.
In the event of cloudy weather conditions that may prevent viewing, the observatory advises visitors to check the observatory's website or Twitter feed, for updated information after 6 p.m. on Sunday.
- YaleNews press release by Jim Shelton