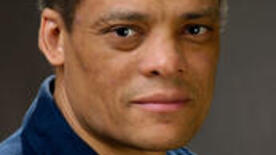 Larry Gladney (Professor of Physics) has been tapped to chair the FAS committee on communal expectations for teaching and learning.
Over the coming weeks, this committee, chaired by FAS Dean of Diversity and Development Larry Gladney, will work to develop a set of communal expectations for FAS teaching and learning that outline principles of mutual respect and understanding for faculty and students in our classroom interactions. The work will be highly collaborative, drawing on and consulting with the organizational structures that give voice to our communal well-being, including the Yale College Council, the Graduate Student Assembly, the FAS Faculty Senate, the residential colleges, and others across campus.
The impetus for creating this committee came from the Academic Policy Committee, chaired by Professor Stephen Darwall, whose June 2020 recommendations to the FAS Steering Committee included the following: "FAS leadership, together with appropriate faculty, student, and staff representatives, should give strong consideration to fashioning and promulgating a set of academic norms and expectations like that established this past Spring at Cornell." This recommendation was endorsed by many of the other committees and task forces.
Chair
Larry Gladney, Phyllis Wallace Dean of Diversity and Faculty Development in the Faculty of Arts and Sciences, Professor of Physics
Members
Michael Bochur Dratvar, Undergraduate Student, Jonathan Edwards College '23
Emily Erikson, Associate Professor, Sociology; Member, FAS Faculty Senate
Jenny Frederick, Executive Director, Yale Poorvu Center for Teaching and Learning
Maria Del Mar Galindo, Graduate Student, Department of English
Anjelica Gonzalez, Associate Professor of Biomedical Engineering
Sarah Mahurin, Residential College Dean, Timothy Dwight College; Director of Undergraduate Studies, Special Divisional Majors
Paul North, Professor of German
Susan Sawyer, Senior Associate General Counsel, Office of the General Counsel