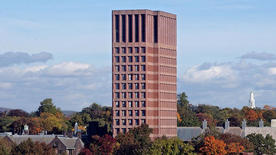 Yale will undertake a top-to-bottom renovation of Kline Tower, a major project expected to further enrich the intellectual makeup of Science Hill, university leaders said this week.
Planning for the renovation of the landmark structure is entering its final stages, Jeffrey Brock, dean of science for the Faculty of Arts and Sciences (FAS), and Alan Gerber, FAS dean of social sciences, wrote in a joint Nov. 18 letter to faculty that offered key details.
When the transformation is complete, in summer 2022, the Departments of Astronomy, Mathematics, and Statistics and Data Science, as well as parts of the Department of Physics, will move into new space in the tower designed specifically for their use.
"In this new form, Kline Tower will represent a re-envisioning of how we work on Science Hill, as well as an invitation for the broader campus to engage with faculty in the development of new computational, mathematical, and statistical methods and tools," the deans wrote.
Brock is also dean of Yale's School of Engineering & Applied Science and the Zhao and Ji Professor of Mathematics; Gerber is also the Charles C. and Dorathea S. Dilley Professor of Political Science.
The Kline project is part of the university's broader investment in Science Hill. The new Yale Science Building, across the plaza from Kline, opened last month.
"With its new design and new occupants, the tower will become a vital and thriving center for research in theoretical and applied mathematics, astronomy and astrophysics, particle physics, and statistics and data science," the letter said. "It will also house an outward-facing institute to signal to the world Yale's status as a center for foundational research in mathematics, computation, and data science."
This new institute, which will occupy the tower's penultimate floor, will welcome visitors from the international community "to engage in research to develop new methodologies for future research in statistics and data science, its mathematical methods, and its computational challenges, in conversation with domain-driven research across the university," the deans wrote.
The redesigned tower aims to foster new collaborations among academic departments. Large common areas will be connected by open staircases to adjacent floors, providing for greater interaction among faculty, students, and staff.
Topping the tower will be a newly built event and meeting space with panoramic views of New Haven and its harbor.
Other planned elements include:
A new classroom floor with multiple, smaller meeting rooms to allow instruction alongside flexible gathering space.
A floor dedicated to lecturers and graduate students in order to build collaboration and community around Yale's teaching mission.
An entry-level common space connected to a new pavilion, which will in turn provide a direct connection between Kline Tower, the Yale Science Building, and Sloane Physics Laboratory.
A center for quantitatively focused teaching and learning, designed to reinforce Yale's educational mission in mathematical, statistical, and data sciences, as well as other quantitative methods. This will be located on the concourse level, below the usual entry level of the tower, on the same floor as the new O.C. Marsh Lecture Hall. There, faculty will lead workshops on teaching, run tutorials and reviews, and support spontaneous group study work.
The planning process has been supported by a team of faculty that includes Karsten Heeger (physics), John Lafferty (statistics & data science), Yair Minsky (mathematics), Wilhelm Schlag (mathematics), Dan Spielman (statistics & data science and computer science), and Pieter Van Dokkum (astronomy).
"We thank these colleagues for their thoughtful collaboration on this planning process," wrote Brock and Gerber. "We are grateful as well to Jim Slattery (provost's office) and Kari Nordstrom (director of project architecture and design) for their support and work with our architectural team."
They concluded: "The vision of our faculty colleagues realized in this bold reimagining of Kline Tower will bring the larger community into deeper engagement with quantitative methodologies. It will inspire generations of faculty, students, and staff to do their best work in research, in teaching, and in the collaborative inquiry so vital to our mission as a community."
-YaleNews, By LuAnn Bishop