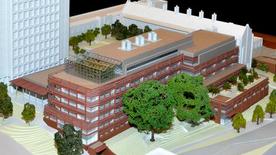 Yale saluted its scientific legacy and looked ahead to a new era of research and discovery during a Feb. 21 ceremony to mark the demolition of J.W. Gibbs Laboratories on Science Hill.
The occasion served as a symbolic, celebratory wrecking ball of sorts, with more than 100 faculty and staff members gathering in nearby Kroon Hall. From there, they could look out the window and see construction crews dismantling Gibbs' glass and steel exterior. They also got a closer look at a tabletop model of the new Yale Science Building.
"I think Gibbs would have appreciated this current situation," Yale President Peter Salovey said, invoking the old building's namesake, Josiah Willard Gibbs, Class of 1858 Ph.D. 1863.
Gibbs was a groundbreaking scientist whose theoretical work in physics, chemistry, and mathematics included the notion of "the inevitability of an ordered state of increasing disorder," Salovey explained.
"We are taking down a building, and it will crumble before our eyes to the Earth, as a precursor to creating a new building dedicated to the advancement of primarily the biological sciences, but, really, the sciences more generally," Salovey said.
Pictured at the ribbon-cutting are (from left) Dr. Robert Alpern, Benjamin Polak, Peter Salovey, Steve Girvin, Indy Burke, and Tamar Gendler. (Photo by Michael Marsland)
The Yale Science Building will be a seven-level structure that includes a rooftop greenhouse, aquatics and insect labs, state-of-the-art imaging technology, a quantitative biology center, innovative physics labs, and a 500-seat lecture hall. It has an expected completion date of late 2019.
The Department of Molecular, Cellular and Developmental Biology (MCDB), as well as part of the Department of Molecular Biophysics and Biochemistry, and certain physics and chemistry faculty will be located in the new building. The structure will be home to labs, classrooms, and research support spaces dedicated to understanding the evolution of plants, disease vectors of insects, and atomic, molecular, and optical physics.
"It is amazing, what will go on in this building," Salovey said. "It will be like nothing else we have done at Yale."
It represents the latest step in an ongoing revitalization of science at Yale — with investments in faculty, infrastructure, and resources that encompass the entire campus, from Science Hill to the School of Medicine and West Campus. Recent developments include renovations of Sterling Chemistry Laboratory and Wright Lab, the creation of new teaching labs at Becton Center, and additional faculty in the Department of Computer Science.
As for the Gibbs name, it will remain a part of Science Hill. A walkway that passes by Sloane Physics Laboratory and Sterling Chemistry Laboratory will be dubbed "Gibbs Walk."
"There will never be a lack of a Gibbs presence on Science Hill, even as we continue to look for additional ways of honoring his legacy," Salovey said.
The event concluded with a ceremonial ribbon cutting led by Salovey, with Provost Benjamin Polak, Deputy Provost for Research Steve Girvin, Dean of the Faculty of Arts and Sciences Tamar Gendler, Dean of the School of Medicine Dr. Robert Alpern, and Dean of the School of Forestry and Environmental Studies Indy Burke.
The former Science Hill laboratory and its namesake, Josiah Willard Gibbs, Class of 1858 Ph.D. 1863